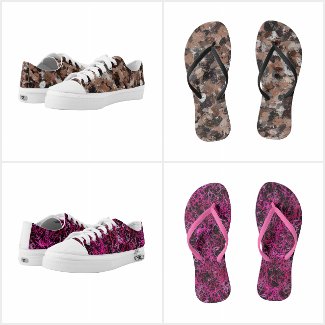 Continuing the badly needed clean up of my formerly scattered approach to designing store items is moving right along!
Newest project is re-organizing my Zazzle shop category:  Shoe Khoncepts Collections. 
Previously, I would design either sneakers or flip flops with each new artwork. It recently occurred to me to at least make it more pleasing to the eye by pairing sneakers with the matching flip flop patterns. Simple, I know, however, it just never  entered my mind until now. It's another "blessing" that has happened since my cancer surgery. More time to focus, contemplate and revise existing work rather than always trying to add new graphics.
An additional tip is for me to remember the four colors of the straps in my Zazzle shop and design accordingly. (black, pink, blue and white).
My Cafe Press shop has orange straps, rather than white! 🙂